Ballantyne NC Tree Services
Treescape Tree Experts provides full tree services in the Ballantyne NC area. From removing trees that have been brought down unexpectedly by storms to a planned out tree removal, we can help you with all of your tree needs! Treescape has been cutting trees for over 20 years. We have been helping people throughout the Charlotte area when they need trees removed, stump removal, trees inspected and saved whenever possible – and more. With two decades of satisfied customers, Treescapes is THE trusted arborist throughout the Charlotte metro area- call us today to find out why we should be your go-to tree service company! You won't at all regret your decision.
Tree Removal in Charlotte/Ballantyne
Regardless of if you want one tree gone because you're worried about how close it is to your home or you want a cluster of trees gone so you can actually see your yard, Treescape is here for all of your tree removal needs. If you want the best and safest results with tree trimming, you have to make sure you're working with a professional arborist. We've been in the business long enough to know how to handle any type of tree removal, we have all the tools on hand to do it safely and in an efficient manner. Tree removal is not easy work, and for your own safety, it's best left to the pros. Learn more about Charlotte tree removal services here.
Ballantyne, Charlotte, North Carolina
The affluent Ballantyne area is home to the Ballantyne Village shopping center, with chic clothing boutiques and jewelry stores, and Blakeney Village, an outdoor mall featuring major national brands. There are also a number of casual Italian, Southern and Asian restaurants, as well as cafes and burger joints. Small parks and ponds dot the neighborhood and the Ballantyne hotel has a public 18-hole golf course. All of that is to say there's no shortage of trees in the area. Treescape can handle all of your pruning, trimming, cutting, and tree removal needs. From cleaning up your business to taking a deep look at all the trees in your yard and cutting those down that pose a risk to your home, we've got you covered. 
Ballantyne Service Area
Treescape's certified arborists show up when we say, and work hard to deliver the best value possible to you. We take protecting the environment around us seriously and always work hard to leave your yard in better shape than we found it. Not directly in the Ballantyne area? Check out all of the areas that we service around Charlotte on our Charlotte tree services page! 
---
Emergency Tree Removal
More often than not when a tree or big branch falls in your yard it comes as a complete surprise to you. If you are lucky enough to spot any dangerous trees or limbs before they fall, it's so critical that you get us out there to get them removed before they DO fall and hurt someone or something! Sometimes though you can't do anything to prevent a tree falling on your home or property, when that does happen go ahead and call us at any time and we'll come promptly to get you all figured out. We take pride in our commitment to arriving quickly and doing a safe and complete job with every tree removal job we do. We're available 24 hours a day so we're always ready to help you out. We know things like this are so stressful, and we work with you to get the job done as quickly and painlessly as we can. Learn more about our Charlotte emergency tree removal here.
Ballantyne Tree Cutting Experts
It's not always too late when you discover limbs on your tree dying – proper trimming could be just the thing your tree needs to keep it alive and thriving. You may not know it but pruning is a fantastic way to keep your trees healthy, removing dead limbs allows nutrients to be used in the areas they're needed most and promotes new growth. To be sure that you won't accidentally do more damage than good, enlist the services of a professional arborist. We know all the little tricks and things to look out for. Amateurs make mistakes, that's just how it goes, but with how long it takes trees to grow that's not really something you want to mess up if you can help it. Learn more about tree cutting services here.
Stump Grinding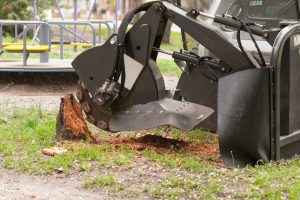 It doesn't matter if your stump has been there for a day or for a year, it's an annoyance and safety hazard that needs to be taken care of. Stump grinding sounds simple, but it's actually difficult work that requires experience to do right. We have the experience and tools needed to take down any stump quickly. Stump removal isn't even worth trying without all of the right tools. An old stump is nothing but an invitation for bugs and pests to come live in it and cause chaos around your property and potentially damage your other trees that are still living. Learn more about stump grinding services here.
Shrubbery Reshaping
Shrubbery is notorious for growing very quickly, this can lead to limbs growing all over one another and flowers not to bud as well as they should. Shrubbery reshaping is more than just aesthetic, it's about getting the plant to grow out healthier. One thing to avoid is trimming only to control size because that is a losing battle with how fast shrubs tend to grow. The true goal with reshaping is getting it to trim them into a shape that prompts them to grow out evenly and in a way that's just easier to maintain with minimal work. You can tell when someone takes good care of their plants, and even more so when they don't. Learn more about shrubbery reshaping here.
Tree Preservation
As strong as trees may be, you've got to take care of them if you want them to live the longest healthiest life that they can. Treescape's certified arborists always come prepared with both the knowledge and tools needed to accurately asses the health of your tree and maintain that in the future. We look at many different things, from the branches of your trees to the quality of the soil it's sitting in and the state of its roots, you can never get too many indicators. We often use the resistographs when doing tree preservation, with it we can get a sample of the entire core of the tree to get a good idea of what it's been through and the internal integrity of the actual tree, allowing us to come up with a plan for preservation. Without our expertise and tools, you're essentially guessing at the health of your tree and what to do to improve it. With all of this data we can look at the facts and come up with the plan most likely to give your trees the best shot at a long and healthy life. Learn more about tree preservation here.
Tree Inspection
By the time your trees are showing easily noticeable signs of disease or distress, the issue causing it is probably already past its initial stages and may be harder to deal with. As certified arborists and tree experts at Treescape, we are very well equipped to identify and treat any issues at all that your trees may be having. When you have Treescape handling your tree inspection, you can trust that as certified arborists we know the small signs to look for, and how to nurse your tree back to health. Learn more about tree inspection here.
Treescape's certified arborists show up when we say, and deliver you serious value with our honesty and experience. We take protecting the environment around us seriously and always work hard to leave your yard in better shape than we found it.