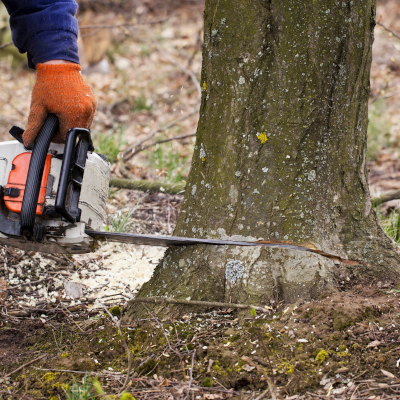 Everyone loves the shade of a big tree on a hot summer day when you're stuck out in the sun, but when trees start to die or become damaged they instantly become a hazard. When the structural integrity of a tree starts to wane, you risk it falling on your home or property with little to no warning. It's best to address your trees as soon as you notice something isn't looking right, or even if a tree is just getting too close to your home for comfort. Learn more about our tree removal services.
Preventative Tree Removal Services
When trees are diseased or weakened by some kind of extreme weather they will often show some outward signs before they do finally fall. Some of the most common things for you to look for are cracks in limbs or the trunk, mold buildup, deadwood, a lack of foliage, and splitting bark among other things. If you start to notice any of these traits in your trees, you want to think about contacting an arborist to take a look and potentially remove the tree.
Are Falling Trees That Dangerous?
Trees are extremely large and heavy organisms, wherever they fall they're bound to do some serious damage. They'll total any car and knock out your roof without a second thought, not to mention the danger they pose to people and pets alike. The best way to prevent trees falling is just ensuring they're healthy, structurally sound, and in secure soil. Sometimes you'll get absolutely zero warning or indication before a tree does fall, and that's just an unfortunate fact of life sometimes, and speaks even more to the idea that you need any potentially dangerous or troublesome trees removed as soon as possible.
How Do You Avoid Trees Ever Falling in the First Place?
Of course, the best way to mitigate risk is to initially plant your trees in safe and strategic places. A lot of you already have older matured trees on your property, the best you can do is just make sure they're pruned regularly and keep a close eye on them and any issues they may be having. If you're just unsure about the health and integrity of your trees, call Treescape to come out and give them an in-depth evaluation and advise you on whether you need tree removal services charlotte NC. Being proactive is really all you can do, sometimes a tree falling is just unavoidable but oftentimes something can be done to mitigate the risk.
Remove Dangerous Trees Immediately
If a tree is found to be dangerous, you truly need to have it removed as soon as possible for the sake of your home and property. Again, a falling tree will easily smash and car, injure or kill people, or potentially ruin your entire home in mere seconds. Don't just wait around for the weather to cause a disaster for you, you need tree Services Charlotte NC out there to take care of you before anything does go wrong. You'll be thanking yourself down the road that you only had to pay for tree removal, and not the rebuilding of half of your house!
Treescape Tree Services Charlotte NC
Are you in need of tree services Charlotte NC? If so you need to go with Treescape Tree Experts, you can trust us without all of your tree service needs. We've been doing all kinds of tree services in and around the Charlotte area for many years now, we work hard to respond to our customer's needs as quickly as we can, and at the right price.
We're available 24 hours a day if you need us, just give us a call at (704) 598-6641. Please don't hesitate to contact us with any questions or concerns you have that we may be able to help with. We only deliver the best tree services Charlotte NC.