Perfect Trees for Small Backyards
Trees have many incredible benefits. They improve the look of a yard, adding property value to your home. They provide shade, which in turn may lower your energy bills. They enrich your yard's soil and help to prevent soil erosion. If you have a small backyard, you may think that you don't have space for trees. Luckily, there are many trees that do well in small spaces, so you don't need to miss out on all the benefits they can provide. Here are six tree that are perfect for small backyards.
1) Japanese Maple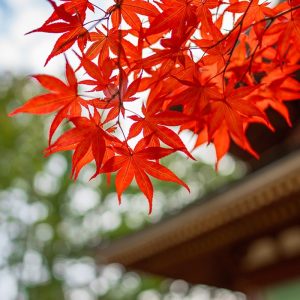 It's hard to wrong with Japanese maple. They have a vibrant, colourful leaves and are great shade trees. They do best in partial shade but can also thrive in full or partial sun. There are many varieties of Japanese maples that come in a variety of sizes. If you have a small yard, both the Emperor I and the Shaina varieties would make a good choice. Japanese maples even do well as potted trees
2) Saucer Magnolias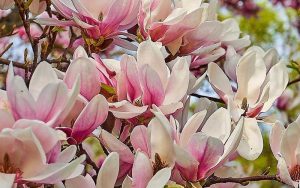 Sometimes, luck and happenstance can have a beautiful result. Such is the case with the saucer magnolia. This hybrid specimen was created by retired French cavalry officer Etienne Soulange Bodin, and it quickly became the centerpiece of gardens across the world.
Also called Chinese magnolia, Japanese magnolia, or magnolia tulip, the saucer magnolia can be found in landscapes across the Southeast, the eastern seaboard, and parts of the West Coast. With over 100 varieties that differ in flower shape, size, bloom time, and coloring, you are sure to find a specimen you can't wait to add to your yard.
3) Dogwood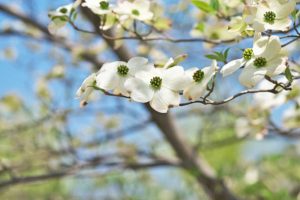 Flowering Dogwood is a lovely, spring-blooming deciduous tree. Its showy, white "flowers" (which are actually modified leaves surrounding the tiny, yellow-green, true flowers) appear April-May, offering a valuable nectar source for native bees. The flowers are followed by oval-shaped fruits, which mature to a bright red color in late summer; the fruits are a food source for birds. The green foliage turns a deep reddish-purple in the fall.
4) Lilac
Lilacs can grow as bushes or trees. Most lilacs sold today are bushes, so you'd be forgiven for being confused by the sight of one in tree form. While there are hundreds of varieties of lilac bushes, there is just one lilac tree, Syringa reticulata. In the past, you didn't often see them. Now more and more homeowners are seeking them out, in part because they stay somewhat small, for a tree.
The disease-resistant & low-maintenance Lilac Tree, doesn't require much attention, and resists most diseases It looks great anywhere- can fit into small gardens & yards as a featured plant or provide a border. It will fill the air fragrant, lavender flowers which also attracts butterflies and hummingbirds.
5) Serviceberries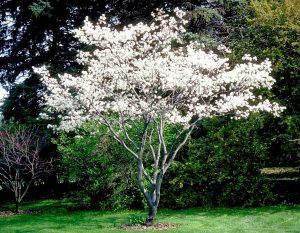 These small trees and large shrubs thrive through all four seasons. Serviceberries show off their blossoms—which are usually white, but may also be pink or yellow—just before their blue-green foliage emerges in early spring, offering some of the first sources of nectar for pollinators. The five-petaled flowers closely resemble apple blossoms, but with skinnier petals. They may appear from March to May and don't usually last long—only about a week.
6) Crab Apples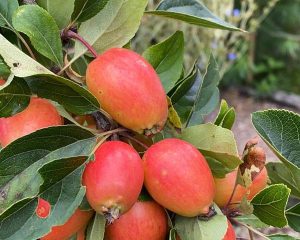 If you're looking for a compact, versatile tree that provides interest nearly year-round, you can't do much better than the crabapple. In addition to dazzling you with breathtaking buds and blossoms in spring, crabapples are also handsome foliage plants in summer and fall, and provide bountiful displays of fruit that linger on the branches well into winter.
Crab apples are great all-rounders, with plenty of food for wildlife, colourful fruit and spring blossom. Try growing a variety like 'John Downie' to make your own crab apple jelly, or an upright variety like 'Golden Hornet' to save space.
Many tree choices
These are just some of the varieties of trees perfect for small backyards. When it comes to picking a small tree on your property, the options are endless. In addition to basic growing considerations like hardiness zones, climate and care, you'll want to consider the space you have to work with and how a tree may impact your landscaping and home as a whole. Creating a beautiful landscape in your outdoor space with trees for small yards is a great way to add beauty to your home and energise your outside space.
Treescape Tree experts are equipped with the knowledge and expertise needed to take care of any of your tree service needs. If you need tree inspection, tree trimming or tree removal services by a certified arborist, we are your go-to, full-service company for all your needs in the Charlotte NC and Gastonia NC area. We offer a level of experience and professionalism that can't be beat. Contact us today!